A2 Hosting is a top award-winning web hosting founded in the year 2001 under the name Iniquinet by Bryan Muthig and later on, in 2003 it was renamed as A2 hosting, which got its name from Ann Arbor a town in Michigan. Originally it was made to provide services to a smaller section of people later on it was expanded to provide service all around the globe. What makes A2 stand out from the rest of web hosting sites is their greater load speeds, which the company names it "Turbo Servers", has the capability to load page 20X faster when it is compared to other non-SSD severs. In this case, Turbo Serves are SSD server, SSD means Solid State Driver.
Apart from providing clients and servers with faster speeds it also provides great Webhosting pricing plans while even the shared hosting plan gets Turbo Servers. Other features of A2 Webhosting services are the 99.9 % uptime and the team of professional customer support called "Guru Crew".
Carbon Neutral
Before moving on to the next segment that will explain all the services of A2 webhosting it is worth mentioning that since 2007 the company has been carbon neutral. This is was possible because they have teamed with Carbon fund to keep a track of its carbon footprints and further controlling how to spend energy. Their servers are located in the Scandinavia region Iceland also helps to keep the servers cool hence making the geothermal cooling possible. This also makes A2 hosting on the list of most desirable hosting service providers.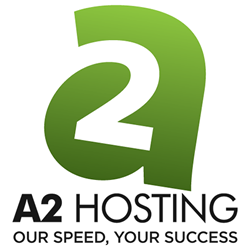 Products
A2 Hosting provides a wide range of services such as Shared Hosting, WordPress, Dedicated Hosting, Domain Purchasing, WPS Hosting.
You can choose shared hosting when you want to host a personal site or blog. As promised of 20X turbo servers it also comes with optimized WordPress, Joomla and, Drupal.
If you want to provide hosting services to your customer you can purchase reseller hosting. It allows easier set up of hosting individuals accounts, interactive WHM control panels, and clean billing systems.
VPS hosting is a step up from shared hosting services as it offers better speed and more security. If you want more isolation and free site migration you can opt or VPS hosting instead of Shared Hosting.
Dedicated Hosting is for clients who have a settled and up and running the business. It can be great for local and growing business, who wants more isolation and proper distribution of management. It also offers free migration.
A2 WordPress Hosting is one of the best one-stop WordPress solutions because it offers 20X speed and turbo servers to meet the demands of traffic. It also comes with features like Auto-Setup, Lite-Speed Cache, Developer Friendly, and More Security.
Reasons To Choose A2:
A2 Webhosting is one of the best performing web hosting services that provides 20X faster SSD turbo boost servers, has guarantee 99.9% uptime. The average load time of the page is found to be under 1.9 seconds. While it promises to offer 30 days money-back guarantee and the Guru Crew Support can be reached via mobile, chat, and email at any time of the day as it is active 24/7 365.