iPage was originally founded in 1998 and now has over one million websites on their platforms. It has world-class technology with two data centers. Their focus is not only on web hosting but also on employees and customers as well. It is very affordable and offers an unlimited number of email accounts, disk space, bandwidth, and a free domain name registration. They even offer a thirty-day money-back guarantee as well.
Individuals and businesses have trusted their websites to iPage for nineteen years. Therefore, the reliability criteria checked! Another plus point is that you can easily design a secure e-commerce website with a 'drag and drop' method. The web hosting staff is available 24/7 to help you with all your queries. Coming back to the features of iPage, here's why one should opt for this web hosting provider,
Unlimited MySQL databases and E-mail accounts
iPage gives you all the liberty to create unlimited MySQL databases and email accounts. The POP accounts or Email accounts will be linked with your specific domain name. On the other hand, MySQL databases stores information like passwords and usernames. So basically, unlimited databases mean- you will have unlimited records as well as unlimited users on your website.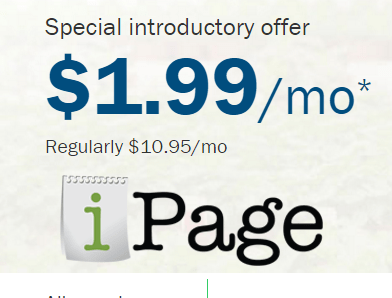 Unlimited Bandwidth and Disk Space
iPage allows its users to enjoy unlimited bandwidth and disk space. Some of the web hosting providers limit the usage of disk space and the amount of traffic on your website as well in exchange for fees that are comparatively more than iPage's pricing. This, in turn, lowers your website's chance to expand and grow. If you use iPage, then you will not have to worry about the bandwidth and storage limits as there will be none.
Drag & Drop Site Builder
You can use your iPage hosting account with a free website builder to create some kickass websites in a couple of minutes. The Weebly Drag & Drop Site Builder does not require any scripting languages and HTML. The only thing you will need is your imagination and creativity. You can easily delete or add elements with a click and can also drag and drop them.
Control Panel
The most important criteria that a webmaster looks for is the control panel. They mainly look for 'easy to use' control panels. Thankfully, this web hosting provider uses one of the best control panels- the vDeck control panel. The interface is super easy and can be easily learned with minimum efforts. Users can customize the menus as well for easy navigation.
Free Advertising and Marketing Credits
The good news is that iPage gives free advertising and marketing credits. The overall 'free credits' amount sums up to $175.
You can count on the iPage when it comes to the 'money-back guarantee' policy. This is an essential feature that most of the web hosting providers lack and iPage is different. It permits the users to get a complete refund if they have taken the '30 day cash back guarantee'.